Products
Cineview™ 26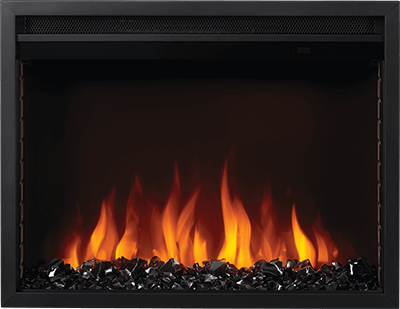 The Cineview™ 30 Built-In Electric Fireplace comes with both logs and glass media, creating simplicity and flexibility for the homeowner to change up their look based on the season. Featuring orange, blue and multi-colored flame options and 7 different ember bed lights the Cineview can be customized for any setting. Complete with self-trimming flange for a clean built-in finish. Plus, optional 3 and 4 piece trims are available when converting an old wood burning fireplace or creating a more substantial surround. The Cineview also comes standard with ECO BOOST mode, which acts like a 2-stage furnace, giving a little extra boost when it is close to reach the desired temperature and conserving energy when needed.
Luxuria™ 62

Napoleon's Luxuria™ 62 linear gas fireplace provides an unobstructed view of the contemporary linear fire and requires no safety screen. The Premium Glass Guard system and Dynamic Heat Control provide safe heating and beautiful views to two rooms at once. Versatile installation opportunities allow for electronics and artwork to safely be displayed above the fireplace while combustible materials are installed flush to the opening. Include premium media options like Nickel Stix, Mineral Rock Kit, Shore, and Beach Fire Media Kits, multiple colors of Glass Ember Media and Glass Beads to embellish your personal style. Control every aspect of this fireplace easily from your favorite mobile device using the eFIRE app, including setting the mood with the multi-colored LED ember bed. With the Luxuria™ fireplace, there are endless installation opportunities.
Ascent™ X 36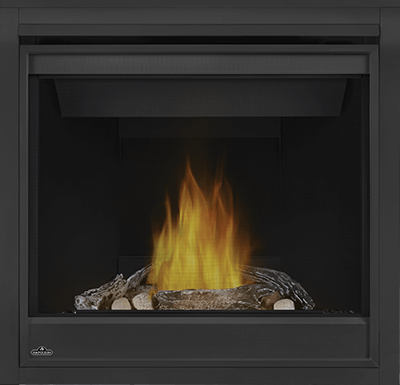 Enhance the luxury and memorable moments of any space by installing the Ascent™ X 36 propane gas fireplace. Our gorgeously hand-painted PHAZER® logs with glowing ember bed are the most realistic in the industry. The full-width firebox and clean-faced design allow this fireplace to be enjoyed to its fullest. The included premium safety barrier keeps your family safe while ensuring the view of the glorious flames is never obstructed. The electronic ignition system ensures safe operation, even in the event of a power failure. Customize the Ascent™ X 36 gas fireplace with multitudinous designer options including fronts, trims, and decorative backer panels. Set the mood perfectly by using the optional natural-looking beach fire, shore fire, and mineral rocks enhancement kits. Relax even further knowing you can operate your fireplace from the comfiest of places using your favorite mobile device and the eFIRE remote app.
Haliburton™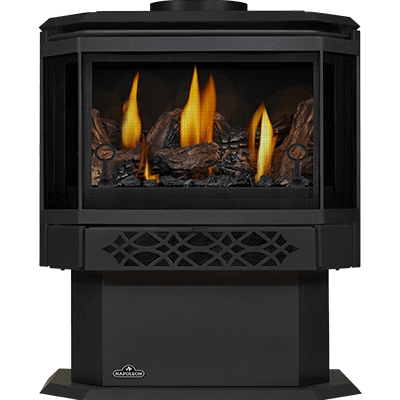 Good things do come in small packages! If you have limited space but still desire the beauty and convenience of a gas stove… the Napoleon Haliburton™Gas Stove is the answer! Offering a variable heat range up to as much as 30,000 BTU's, this stove may be compact in stature, but not in power!
Oakdale™ EPI3TN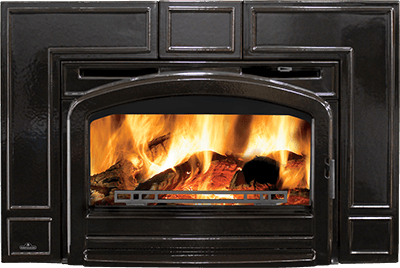 Napoleon adds to their wood burning collection with the Napoleon Oakdale™ wood insert. Four stainless steel secondary air tubes supercharge the fuel burning process and generate a beautiful display of YELLOW DANCING FLAMES®. Complete with a removable painted black log retainer and a heat circulating blower, Oakdale™ is the perfect heating solution to replace and update drafty masonry fireplaces in a home or cottage.
Ascent™ 36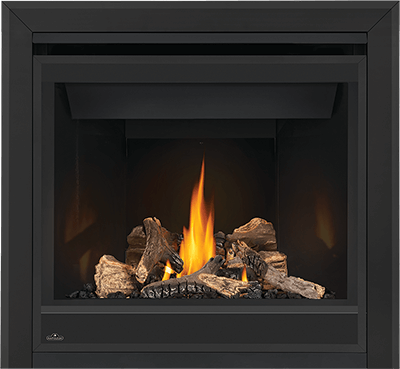 The New and Improved Ascent™ 36 is perfect for builders and homeowners who are looking for versatile installation options. When space is at a premium, the Ascent™ 36 is ideal for corner applications while presenting the largest viewing area of its class. With an improved log set and burner, Napoleon's Ascent™ 36 is sure to provide the most charming atmosphere for any room.
Riverside™ 36 Clean Face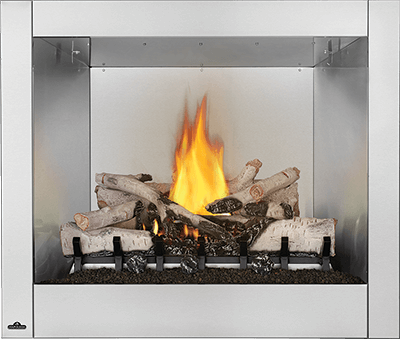 Gather around with your family and friends beside the warm radiant heat of the Napoleon Riverside™ 36 Clean Face Outdoor Gas Fireplace. The Riverside™ 36 features Napoleon's PHAZER® log set and is 100% stainless steel construction to withstand the toughest outdoor environments. Installation possibilities are endless with Napoleon's Riverside™ 36 CF Outdoor Gas Fireplace as there is no venting or chimney required. Perfect for any spot in your backyard.
Alluravision™ 42 Slimline

Napoleon's Alluravision™ 42 Slimline linear electric fireplace allows you to see the fireplace and not the frame with its nearly frameless linear design. As a contemporary electric fireplace, the frameless modern look is just as important as its functionality. Easy to use, the plug and play installation allows this unit to be hung on the wall and turned on immediately. Its slim design barely protrudes into the room. The Alluravision™ 42 can also be hardwired in to hide plugs. Select from four flame colors, yellow, orange, blue, and multi-colored and with five different flame speeds, further ensure the perfect atmosphere for any space. Illuminate the firebox without flame using the NIGHT LIGHT™ to boost ambient light and create a warm glow. Add the driftwood logs for increased hearth-like elegance. Enjoy the Alluravision™ 42 all year round with separate flame and heat controls.
Bayfield™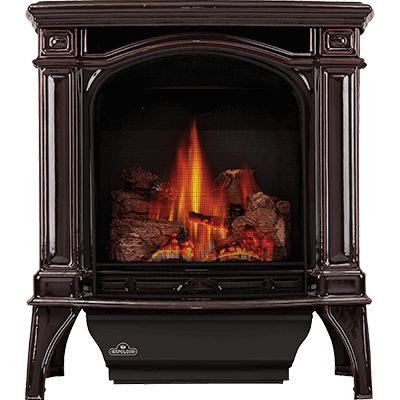 Crafted in durable and heat radiating cast iron, the Napoleon Bayfield™ Gas Stove features a Porcelain Enamel Majolica Brown finish that will add drama and warmth to any home. The PHAZERAMIC™ burner system features a randomly flickering flame and realistic glowing ember bed. Accentuating the realistic fire is the lifelike PHAZER® log which provides a natural wood burning look. The included NIGHT LIGHT™ produces a pleasant glow with or without the dancing flames' glow. Other features include a cost-saving electronic ignition with battery back-up, flame/heat adjustment, ceramic glass, and standard on/off switch. Add a classic rustic touch to any space with a Bayfield™ Gas Stove.
Stylus™ Cara

The Stylus™ Cara is as much an elegant focal point as it is a functional source of heat for a large room. Perfect for your modern decor or to give your current design to a transitional feel. The contemporary surround offers features such as a dual USB 2.0 charging port with LED color indication of charging status. Highlight your favorite objet d'art by displaying them on the side shelf with an accent light that offers color and brightness adjustments.