Products
Elevation™ X 42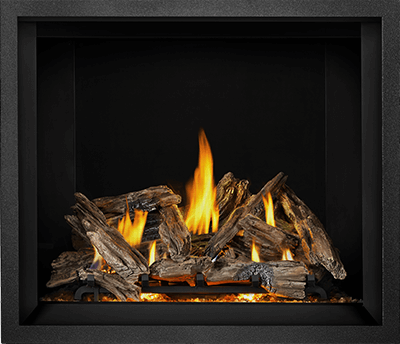 Things don't get more premium than Napoleon's Traditional Elevation™ X gas fireplace. Feature loaded with an electric ember bed with realistic glowing embers that are visible from every angle and an included heat circulating blower, this fireplace is beautiful form with high function. Nearly infinite design options include ultra high definition log options in beachy Driftwood, traditional Split Oak, and bright Birch. Several trim, decorative front, and decorative brick backer panel options are available to ensure your favorite spaces flow together. Control this fireplace easily with the included remote or from the comfort of your favorite mobile device. The optional Dynamic Heat Control™ PLUS System allows heat from the fireplace to be directed to any living area in the home that needs it, even if the power goes out. Make the Elevation™X the stylistic focal point it should be or keep it the traditional and understated crown jewel of your home.
Vector™ 62

Napoleon's Vector™ 62 linear gas fireplace features a sleek, contemporary design and multitudes of designer options. Complete your space with a luxurious fireplace, including the Divinity™ flame pattern with heightened peaks and valleys. Enjoy the flames' radiant glow, shining through the clear glass bead ember bed. Use the NIGHT LIGHT™ system and the multi-colored LED lights beneath the ember bed that accent from underneath to add a gentle glow to the room when not using the fire. Premium media kits, like modern Nickel Stix, the natural Mineral Rock Kit, beachy Shore, and Beach Fire Media Kits, and multicolored Glass Ember Media or Glass Beads to create a truly custom look. You can relax while relishing the glow because you can control the Vector™ from your favorite mobile device with our convenient eFire app.
Ascent™ Linear 36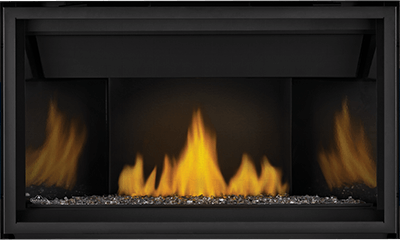 Make the Napoleon Ascent™ linear gas fireplace the ideal finishing touch for your home. Customize the look by adding optional media enhancement kits like the natural and nautical feeling Beach Fire or Shore Fire kits. The earthy Mineral Rock kit is another colorful option and can be mixed and matched with the other kits to create a truly unique look. The eFIRE app allows you to control the fireplace from your favorite mobile device. The Ascent™ Linear adds sparkling luxury to any room with the topaz CRYSTALINE™ ember bed, wherever it's installed.
Acies™ 38 See Through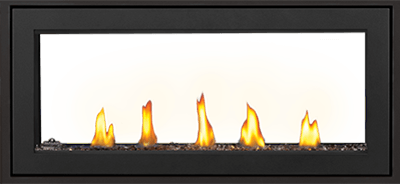 With a sleek linear form and a multitude of designer options, Napoleon's Acies™ See Through linear gas fireplace provides a completely luxurious fireplace experience from two sides. The Divinity™ flame pattern features heightened peaks and valleys and a unique flame experience. The radiant glow can be enjoyed through the clear glass bead ember bed or enhanced with the optional style enhancements like Beach Fire, Shore Fire, Mineral Rocks, and even Premium Birtch Log media enhancement kits.
Castlemore™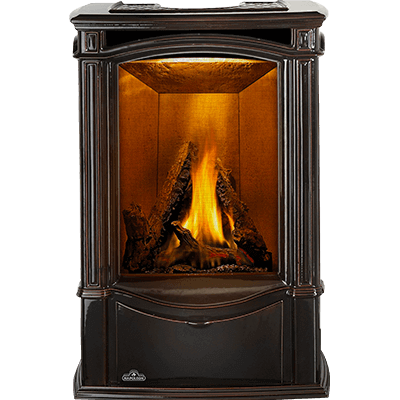 More than just a reliable heat source, the cast iron Castlemore™ Gas Stove is a beautiful addition to any space. Traditional European-styling, Porcelain Enamel Majolica Brown Finish, slender stature, and charming curves both draw the eye and allow the Castlemore™ to blend seamlessly into its surroundings. Gorgeous realistic flickering flames and glowing embers engulf the authentic-looking, hand-painted, PHAZER® logs to create the appearance of a wood-burning fire. The NIGHT LIGHT® accentuates the firebox and adds a comforting ambiance whether the fire is on or off.
Bayfield™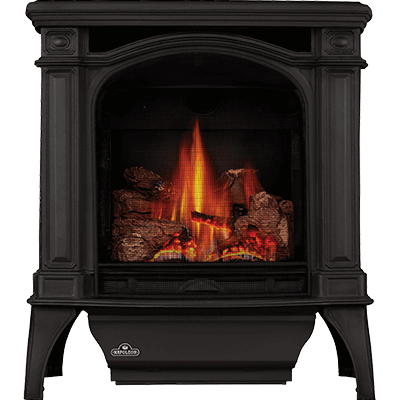 Crafted in durable and heat radiating cast iron, the Napoleon Bayfield™ Gas Stove features a metallic black finish that will add drama and warmth to any home. The PHAZERAMIC™ burner system features a randomly flickering flame and realistic glowing ember bed. Accentuating the realistic fire is the lifelike PHAZER® log which provides a natural wood burning look. The included NIGHT LIGHT™ produces a pleasant glow with or without the dancing flames' glow. Other features include a cost-saving electronic ignition with battery back-up, flame/heat adjustment, ceramic glass, and standard on/off switch. Add a classic rustic touch to any space with a Bayfield™ Gas Stove.
Trivista™ 50

Napoleon's Trivista™, a three-sided electric fireplace, boasts the highest heat output in its category. Showcase the fireplace with the Northern Woods log set or acrylic crystals or combine both for an amazing display. Effortlessly control all the features using the included remote or the touch screen panel with motion proximity sensor. Seven different flame color settings and brightness adjustments make this fireplace perfect for any time of day. Included end panels allow for two-sided or one-sided installation Enjoy all year round with the ability to operate the luminous flames with or without heat.
Altitude™ X 36
Designed to provide the ideal aspect ratio for an aesthetically pleasing view, the Altitude™ X 36 gas fireplace is a traditional fireplace that you can truly make your own. This stately fireplace is available with a substantial amount of features or options to help make installation and customization a breeze. The clean-faced, minimalist design and full-width firebox are highlighted by the included NIGHT LIGHT™ which illuminates the firebox and logs even when the fireplace is off. Set the tone with a selection of premium logs, including beachy driftwood, classic oak, bright birch, and homey maple. Operate the luxurious Altitude™ X 36 from your comfy spot using your favorite mobile device and the eFIRE Remote App. The only question about your new Altitude™ X 36 fireplace is which of the eight fronts, six decorative brick panels, and four log set styles will you choose to make this fireplace truly yours?
Havelock™
The Napoleon Havelock™ Gas Stove offers many benefits – a built-in blower, extra large heat exchanger, easily accessible controls, solid body construction and a triple state-of-the-art burner system allowing superior heating efficiency. This, combined with clean-burning, environmentally friendly technology, makes the Havelock™ gas stove the perfect choice to add long-lasting value to your home!
Alluravision™ 50 Slimline

Napoleon's Alluravision™ 50 Slimline linear electric fireplace allows you to see the fireplace and not the frame with its nearly frameless linear design. As a contemporary electric fireplace, the frameless modern look is just as important as its functionality. Easy to use, the plug and play installation allows this unit to be hung on the wall and turned on immediately. Its slim design barely protrudes into the room. The Alluravision™ 50 can also be hardwired in to hide plugs. Select from four flame colors, yellow, orange, blue, and multi-colored and with five different flame speeds, further ensure the perfect atmosphere for any space. Illuminate the firebox without flame using the NIGHT LIGHT™ to boost ambient light and create a warm glow. Add the driftwood logs for increased hearth-like elegance. Enjoy the Alluravision™ 50 all year round with separate flame and heat controls.